Maggie at the Mic; The Purple Voice
Wow six years as a voice actor. In that time I have been shot at, chased by zombies and been the voices of several reharmonized ponies; it has been quite a voice over adventure for me. I have promoted coffee, cars, chips, haircuts, and hair care products. I have led people on a self-guided tour with the National Park Service and told people where to go, via a GPS system that is. I have narrated several projects, and have been in three short movies (check it out at http://www.imdb.com/find?ref_=nv_sr_fn&q=Maggie+h+taylor&s=all).
It's possible that the voice instructing you on the phone, the video on that website you just visited, or the explainer video may be mine. Maggie at the Mic; the Purple Voice is having fantastic 2016. Let's work on an adventure together.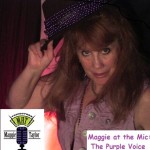 I am very much looking forward to my next adventure; maybe it will be for you, challenge me. Give me a call at 805-484-7798, or email me at maggiehtaylor@gmail.com. https://www.facebook.com/pages/Maggie-at-the-Mic/258265224353684?ref=hl.
and now https://maggieatthemic.wordpress.com/

Maggie is excited to have recently signed on with TAG Agency out of Austin TX.
Introduction